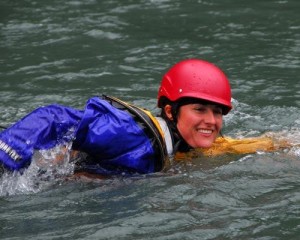 Ali Howard's 610km swim of the Skeena River in 2009 was an incredible endeavor that was the focus of Andrew Eddy's recent film Awakening the Skeena.
The film is an amazing inspiration to the rest of the world to take a step in the right direction in order to protect the Sacred Headwaters and the Skeena Watershed.  Learn more about the Skeena Watershed Conservation Coalition, Ali Howard and Awakening the Skeena or check out Ali and her teams profiles online.
After speaking with Ali following a showing of Awakening the Skeena in Jackson, WY we had a chance to talk about a few books.  One book that has had a significant impact in the life of environmentalist and Skeena activist Ali Howard is:
A Complicated Kindness by Miriam Toews
"Is it wrong to trust in a beautiful lie if it helps you get through life?" – Miriam Toews
Buy your copy of A Complicated Kindness at Amazon.com
Thanks to Casey Sheahan and the Patagonia team for making this event possible! Check out Patagonia's 'The Cleanest Line' blog post about the Skeena Watershed and Ali Howard's amazing journey to learn more.