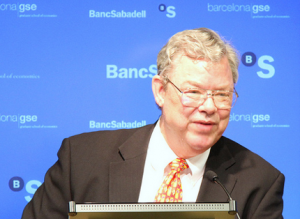 Check out the most influential books in the life of Donald John Roberts: Stanford University's John H. Schully Professor of Economics, Strategic Management, and International Business. John is also the Director of the Center for Global Business and the Economy, Codirector of the Executive Program in Strategy and Organization, and Faculty Director of the Global Management Program at Stanford.
Economics by Paul Samuelson
  "Investing should be more like watching paint dry or  watching grass grow. If you want excitement , take $800 and go to Las Vegas." – Paul A. Samuelson
Buy Economics: The Original 1948 Edition at Amazon.com
The Great Gatsby by F. Scott Fitzgerald
  "Whenever you feel like criticizing anyone …just remember that all the people in this world haven't had the advantages that you've had." – F. Scott Fitzgerald, The Great Gatsby, Ch. 1
Buy The Great Gatsby at Amazon.com
Theory of Value by Gerard Debreu
  "I had become interested in economics, an interest that was transformed into a lifetime dedication when I met with the mathematical theory of general economic equilibrium." – Gerard Debreu
 Buy Theory of Value at Amazon.com
Fundamentals of Real Analysis  by Sterling K. Berberian
  "Pure mathmatics is, in its way, the poetry of logical ideas." – Albert Einstein
Buy Fundamentals of Real Analysis at Amazon.com
Bio of John Roberts:  Donald John Roberts holds the John H. and Irene S. Scully Professorship in Economics, Strategic Management, and International Business at the Graduate School of Business at Stanford University. John is a current Fellow and former Council  Member of the Econometric Society and a Fellow of the American Academy of Arts and Sciences.  He has also served on the editorial boards of The American Economic Review, Econometrica, The Journal of Economic Theory, Games and Economic Behavior, The Journal of Economics and Management Strategy, and Organizations and Market Abstracts.  He has been a consultant to the United States Government upon regulatory issues and previously served on the Board of Directors for Gorton's of Gloucesterand Bluewater Fisheries.
In 2004 John's book The Modern Firm: Organizational Design for Performance and Growth
 was named the Best Business Book of the Year by The Economist. This book comes highly recommended and should be on every CEO, manager, and company owners reading list.
Biographical information obtained from Stanford's University website.